In early February 2020, I joined the small NTNY team.
I come from the academic world and I can tell you that nothing compares here with life around the benches!
Directly immersed in a Re-start module I could see that the reality of the work was in total adequacy with my values: to create a little bubble of oxygen so that young people can try, meet, discover themselves through a whole lots of cooler devices from each other … Wow!
And yes, because I didn't tell you, but my creed in life is to be able to do everything to feel good in your sneakers. If I decided to train in the field of pedagogy and learn about alternative methods of well-being, it is to be able to support young people to build themselves without frustrations in the face of academic (and other) difficulties in projects that will allow them to be confident, fulfilled and to be able to use all their resources.
It is therefore with joy that I joined a team with completely different colors but whose vocation is the same and which makes every effort to make it work!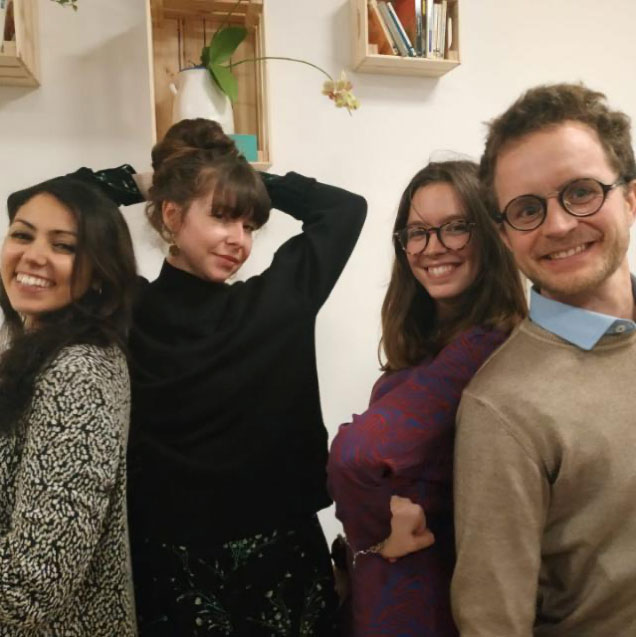 The three colors I'm talking about are those of Sanae, Loïc and Virginie.
Sanae is the vision of SPI.
From her long professional experience in local mission, she is the specialist in the field and it is very nice because Sanae, it is also the educational coordinator of NicetoNEETyou! But Sanae is also open-mindedness and selflessness, a person with whom you are sure that the exchange will advance you. Otherwise, in her spare time, Sanae enjoys creative and original cuisine such as her famous coffee chicken! Even in the kitchen, let's think outside the box!
Do you know Loïc?
Loïc is a social worker by training. But, even if his long experience as a companion for young MENA has given him a bottle, Loïc does not like to be summed up in this characteristic … Because his thing is his clown game . Loïc is passionate about this discipline after a long study of the theater and this is felt completely in his daily life: attention to detail and optimistic touch, Loïc is the idea of the half-full glass of the team! He is a go-getter and, in his spare time, he does not hesitate to travel the roads on his bike.
And finally Virginie, this is the team's cup of coffee!
It's a ball of energy that boosts you in less than two with its good humor! She is a neuropsychologist by training but her special touch at NTNY is digital! Yes, it's really Virginie who is behind the screen when you react to her great social media posts! Otherwise, you should know that she is a sportswoman who is not afraid of the challenge: football, semi-marathon preparation and even recently boxing, Virginie does not shrink from anything!